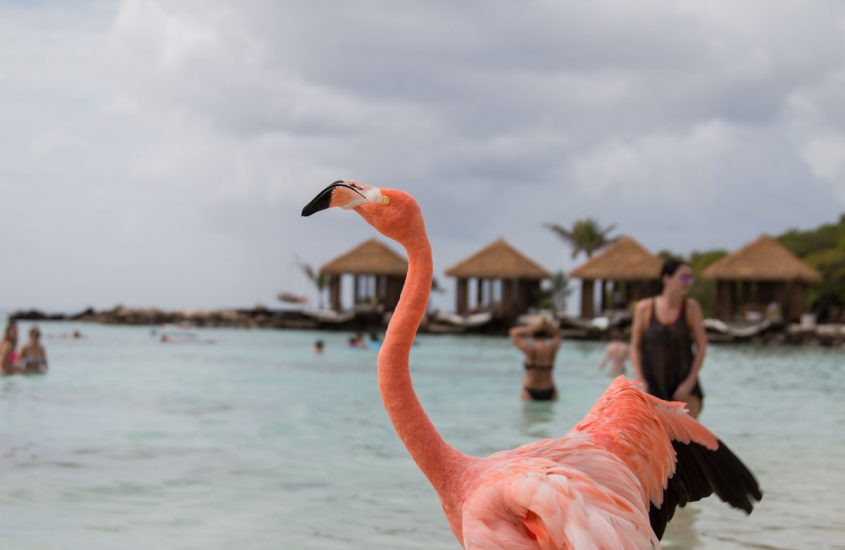 After the amazing experience we made in Aruba #flamingoselfie, we definitely wanted to write an article about the TOP 6 beaches where you can have an unbelievable and awesome once in a lifetime animal experience. Frankly speaking, we are also blogging about it due to selfish reasons as we just fall in love with the idea of seeing all of those beaches. Believe me, our travel bucket list is continuously growing and developing (and could last for three life's on this earth).
By the way, this is our first article in English, so please be patient with us and excuse some grammatical/ spelling mistakes from our side – it's not our mother tongue.
---
TOP 1 Flamingo Beach: Renaissance Island, (Aruba)
Where? Renaissance Island, owned by the Renaissance Aruba Resort & Casino, L.G. Smith Blvd 82, Oranjestad, Aruba
How to get there? If you are a member of the hotel you can easily take the taxi boat to the Island (it is included in the room fee). If you are non-member, you have two options as you CANNOT buy tickets online:
a.) Go to the reception of the hotel and ask for a ticket to the Island. This option did NOT work out when we were there as the hotel was fully booked.
b.) Go to the Okeanos Spa and ask for a floating treatment on the island. This also takes some time and calls, especially when the hotel is fully booked. The supervisor of the Spa was very kind and tried hard to get these 2 highly desired tickets for us. Lucky us – after a while she handed them over to us.
Costs? 89 Dollars (Okeanos Spa) or roughly 99 dollars through the hotel reception
After receiving the tickets, it is fairly easy to get to the Island. Together with the voucher of your floating treatment, you will also receive a plastic card for the trip with the taxi boat. Cool thing about it – it picks you up right in the middle of the Renaissance Mall next to the Starbucks. So grab a coffee and enjoy the short boat tour (round about 15 min.). On a side note; the taxi boat shuttle departs every 10 minutes.
Upon arrival on Renaissance Island, we were so excited that we didn't even recognize that there are two beaches. One on the left and one on the right. We ended up at the "kids-beach" :), disappointed not seeing any flamingo at all. After a while and after a burger at the Papagayo Bar and Grill Restaurant (which was by the way super good), we took a second tour through the Island and finally found the "flamingo beach". We have to admit, it was an amazing experience and as the management cuts the feeding times for children (only 1 hour per day) it was fairly quite and relaxed.
We think that the combination of crystal clear blue water and pink graceful flamingos have certainly earned first place! To convince you of our choice, below some inspiring pictures of our one day trip to this beautiful Island: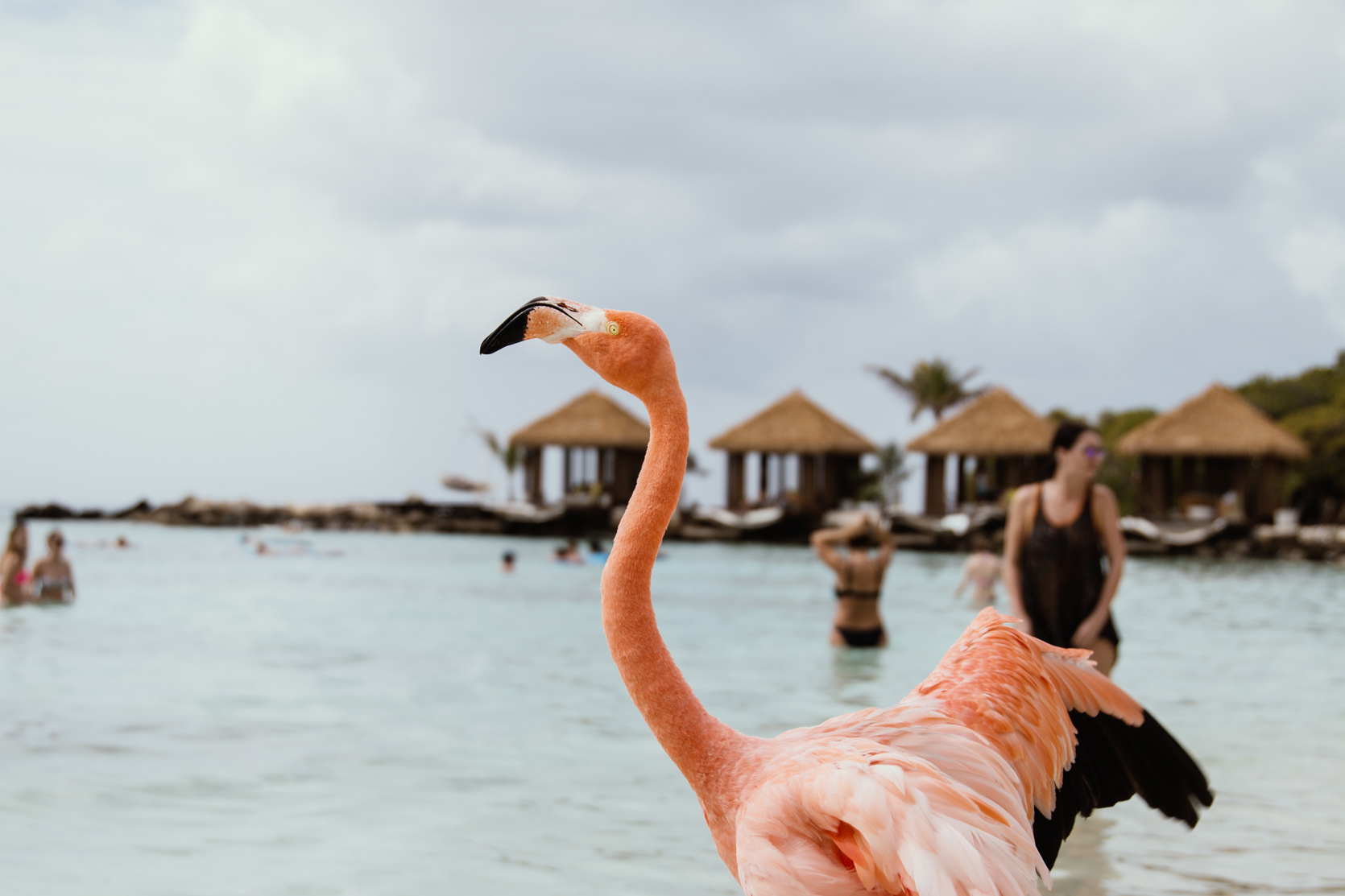 And because it was so amazing more pictures of the beautiful Flamingo Beach in Aruba.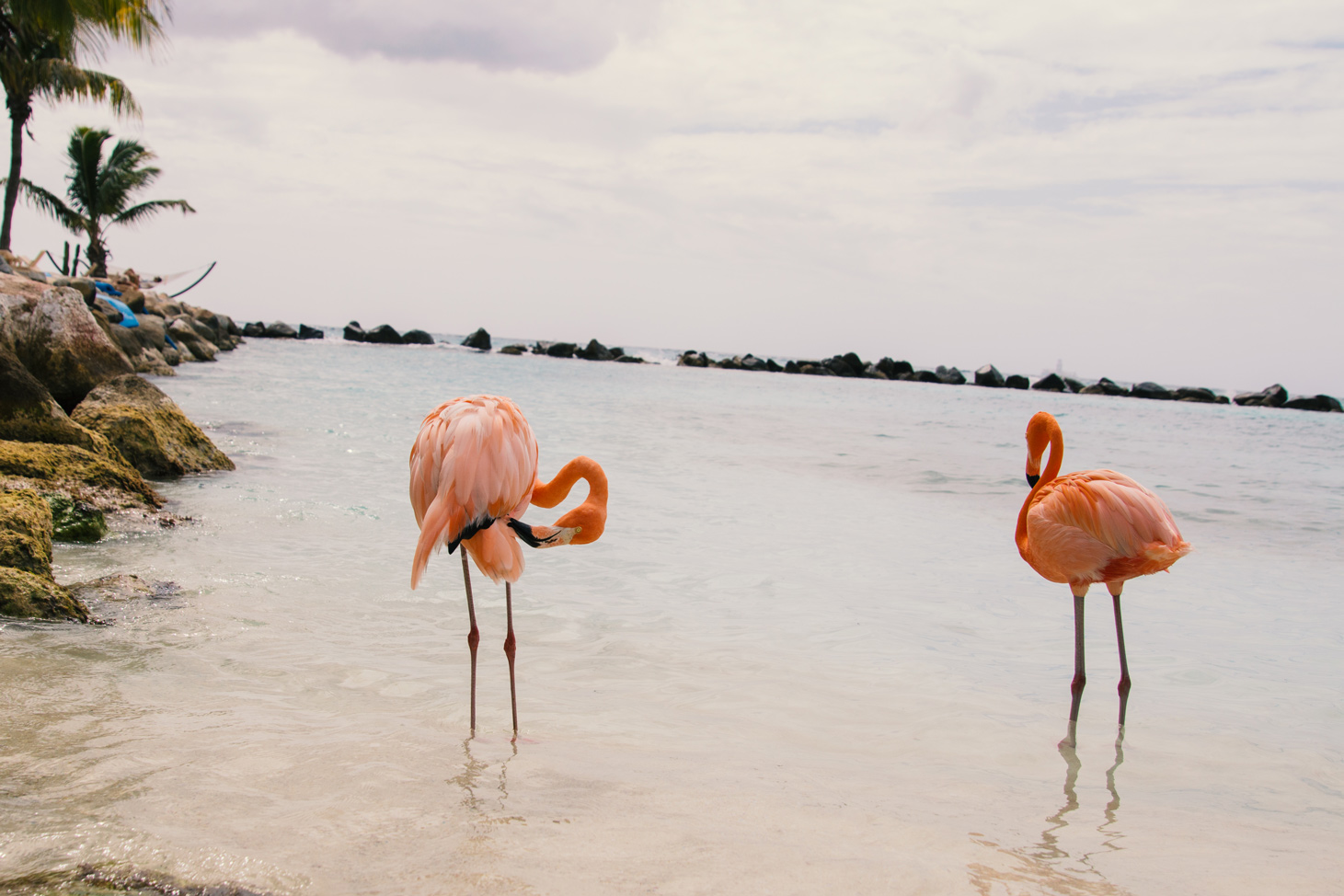 ---
TOP 2 Pig Beach: Exuma, Bahamas

 
Where? Big Major Cay, Exuma, Bahamas (50 miles northwest of Gerorgetown)
How to get there? Pig Beach is on a small, uninhabited island in the Exuma area of the Bahamas. The only way to get there is by boat. Depending on where you are staying (Staniel Cay or Mainland Exuma) costs might vary. From Staniel Cay Yacht Club it only takes you 10 minutes to the pig beach, you can either rent a boat or hire a local guide. From Exuma mainland it might be the best option to book an organised full day tour.
By the way, if you are booking the full day tour, you can even combine it with at trip to the Compass Cay Marina to swim with the nurse sharks (round about 10 dollars on top to the main price).
Costs? 160 Dollars for the day tour – open end (depending on your preference, own charter, etc.)
And how did the pigs end up at the beach?
There a local legends how the pigs end up at the beach. Some say they were left by a group of sailors or that the pigs swam over from a shipwreck. Either way, there are now round about 20 pigs on the pig beach. You can also feet them and they are thankful for any food. Nevertheless, we just read latest articles and couldn't believe that some sort of dumb people gave them alcohol (rum) and therefore some of the pigs died which is clearly not acceptable. There are so cute so please take good care of these lovely animals if you end up at the Pig Beach.
https://www.instagram.com/p/BhjuB2bgbyc/
---
TOP 3 Penguin Beach: Boulders Beach, South Africa
Where? Boulders Beach, Kleintuin Rd, Simon's Town, Cape Town, 7995, South Africa
How to get there? It's about an hour's drive by car from the CBD. Boulders Beach is situated False Bay, on the way to Cape Point. You can either take the car or use public transport. Most of the visitors during my research recommended to go by car along Chapman's drive, past Noordhoek and Kommetjie which should be an amazing ride.
Costs? Fairly cheap: R75 (~6$) for adults and R40 (~4$) for children, open year round from 9 a.m. to 5 p.m.
As we haven't been to South Africa before, this spot is definitely on our bucket list. The penguins at Boulders Beach used to be called Jackass Penguins because of their distinctive braying call. Their name was changed to African Penguins as several South American penguins apparently make the same noise. 
The beach is clean and safe as it falls under the Table Mountain National Park Marine Protected Area. This also means that alcohol and smoking is prohibited. It's also forbidden to touch the penguins or feed them. They might look cute but they bite.
No matter what, it's easy to get just a few feet away from them and take for example these lovely <3 photos:
---
TOP 4 Kangaroo Beach: Queensland, Australia
Where? Cape Hillsborough, Queensland, Australia (1 hour drive from Mackay and 2 hour south of Airlie Beach)
How to get there? Cape Hillsborough is a national park which is good connected. You can easily go there by car and use the car park.
Costs? Free entry
Australia is definitely the land of kangaroos. I have to admit that I haven't visited the beach when I used to live in Australia. Presumably motivated through the fact that I have seen so many of them (for example on Hamilton Island, part of the Whitsunday Islands) that I didn't even came to the conclusion to do a little bit of research on that. Nevertheless, while some kangaroos are comfortable with humans, most prefer not to be approached.
You can meet lots of kangaroos and wallabies at Cape Hillsborough. But make sure to go there before sunrise as they are sometimes hiding throughout the day. If you are going there before sunrise, you will have a spectacular view over the ocean (see below). <3
---
TOP 5 Monkey Beach: Kho Phi Phi Don Island, Thailand
Where? Monkey Beach (also called Yong Gasem Bay) on Ko Phi Phi Don Island, Thailand
How to get there?
To get there, you can choose from several options. You can take part of a boat tour and either decide to book a half day and full day trip (I would recommend to book a full day trip as you can combine it with a snorkelling trip). I booked on organised tour from Phuket which was definitely worth it. You can also rent a kayak and paddle to Monkey Island (round about half an hour) – as I wanted to relax I chose the first option.
Costs? Depends on the tour – from 50 $ – 150 $
To be honest, when I was there I spotted a few monkeys in the trees but unfortunately I haven't seen monkeys on the beach. I did not care that much about it as the island itself (Kho Phi Phi) is super beautiful. As I have booked a full day tour there have been tons of possibilities to go snorkelling which was definitely worth it as it is top-notch snorkelling spot.
---
 TOP 6 Dolphin Bay: Queensland, Australia
Where? Tin Can Bay, Special Car Parking Area for Dolphin Feeding, Queensland, Australia
How to get there? By car: there is a "Special Car Parking Area for Dolphin Feeding" at the rear of the swimming pool, and then it is just a short walk over to the Dolphin Feeding Centre.
Costs? The cost to feed the dolphins includes a $5.00 per person entry fee plus $5.00 for each fish.
Tin Can Bay is a beautiful seaside village that is known for its abundant wildlife, easy atmosphere and magnificent wild-catch seafood. I have to admit; this is not a beach but I wanted to name it as I have visited Tin Can Bay and like the way they treat the dolphins and what the local legends say about the dolphins at Tin Can Bay. It started when an injured dolphin beached himself on the sand at Barnacles Cafe. The locals took pity on him and started to feed him.  Once he was well enough he returned to the wild but regularly returned to the bay to visit the locals and enjoy a free meal. Since then, many dolphins came and still come to visit the bay.
Please note: The Dolphin Centre opens at 7.00am with viewing time between 7.00 – 8.00am. There is only one feeding session per day commencing at 8.00am. 
---
Summary
Please feel free to add the most amazing beaches with exotic animals you have visited in your traveller life. We would like to amend our TOP's with good hints from your side. Enjoy! And do not forgot: Collect moment, not things.